Dec 4, 2017
In mid-November or so, I removed all of the old plant stalks from the garden and put away the tomato cages and stakes.
In late November, Deb canned/pickled a lot of the green tomatoes, and we ate the tomatoes that ripened indoors.
The garden is covered and tucked in for the winter. On Dec 4, I covered the garden with leftover leaves from our yard that didn't make it to the curb for pickup. Too many leaves. I created a lot of cleanup for the spring. The garden is surrounded with short, wire fencing, which will corral the leaves.
This will probably be the last garden post for 2017. A brief summary of 2017:
My attempt at starting heirloom tomato seeds indoors back in March failed.
The lettuce plants that sprouted in May from seeds that I planted three or four years ago were a surprise. I didn't have to buy lettuce plants. I transplanted the plants in an orderly fashion. Wound up with at 36 plants and three varieties of lettuce. We ate a lot of fresh salads, which might be my favorite aspect of maintaining a produce garden.
I bought and planted tomato and pepper plants in late June, which is much later than normal for me. I considered not maintaining a garden beyond lettuce.
I planted fewer green beans than normal, but they did well. I enjoy steamed fresh green beans from the garden.
The nearly week-long stretch of 90-degree weather in late September was abnormal but welcomed, since the weather ripened the tomatoes. We got swamped with a lot of Roma tomatoes. I made batches of fresh salsa. Deb cooked tomatoes down and froze them, which we can use this winter for sauces.
The mole peppers produced well. The had a mild to slightly spicy taste.
For 2018:
I don't plan to attempt to grow tomatoes indoors from seeds this winter. I always wanted to try to grow lettuce in the late winter and early spring under plastic held up by hoops, but we'll see.
I'd like to buy multiple varieties of heirloom tomato plants, if possible. I'll probably plant over 30 tomato plants again, like this year.
Lettuce and green beans for sure. Maybe fewer pepper plants to make room for more green beans.
The 2017 garden season was fun and delicious.
Wed, Oct 25
We leave this afternoon for a trip to London, returning late next week. I picked all remaining tomatoes, peppers, and beans. I wound up with a lot of green tomatoes. Many should ripen indoors in the coming weeks.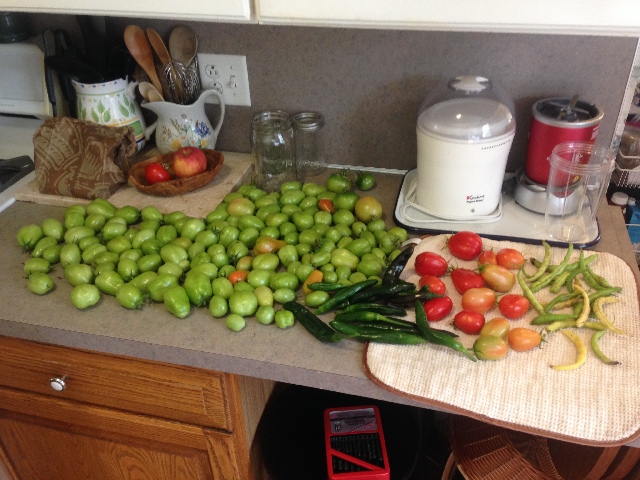 Fri, Oct 13
This evening, I picked some old-ish green beans, several peppers, and some tomatoes. The round tomatoes seated in the wooden bowl were picked earlier in the week.
---
I made a double batch of salsa last Fri, Oct 6. For the double batch, I used 25 to 30 tomatoes. I needed peppers, therefore I picked and used five mole peppers from our garden.
I took this photo last Fri, Oct 6 before making the salsa. The tomatoes in the colander were down because we used a bunch earlier in the week.
I picked a lot more tomatoes this week, and more exist to pick.
Roasting and dehydrating
This week, Deb roasted a bunch of tomatoes, and then she froze them in freezer bags. We'll use them in the future for pasta and pizza sauces.
She also saved the juice that formed on the tin foil-covered baking sheets from the roasting. Olive oil, garlic, and the tomato juice.
After roasting, she removed the tomato skins. She saved the skins and placed them in the food dehydrator overnight.
She also sliced thin some fresh tomatoes and placed them on the dehydrator too, which produced tomato chips.
I didn't taste test the dried tomato skins, but the dried slices of fresh tomato tasted amazing. I guess it was because of concentrated flavors. The dried tomato slices contained a fascinating amount of bold, sweet flavors for something so thin and small.
She placed the juice, dried skins, and dried tomato slices in the frig. I guess that we'll have to consume them relatively soon.
I'll make more salsa this weekend, and we'll roast more tomatoes for freezing.
Roasted tomatoes in the container that would eventually be placed in freezer bags. The bowl contained tomato skins prior to being dried in the dehydrator. And the leftover juice from roasting was placed in a Mason jar.
Mon, Oct 1
I have picked a lot of tomatoes in the past eight days. I'll need to make tomato sauce that we will freeze and use for pasta and pizza later.
This evening, however, I made fresh salsa, using approximately 12 of my Roma tomatoes, which are about medium-sized. A few have grown to what I consider the normal (large for me) Roma size. I also used two of my long mole peppers from my garden.
I followed the following recipe minus the jalapenos. Here's my version:
3 cups chopped tomatoes - 11 to 12 Romas
1/2 cup chopped green bell pepper - 2 moles (mine are dark green)
1 cup red onion, diced
1/4 cup minced fresh cilantro
2 tablespoons fresh lime juice - 1 lime
1/2 teaspoon ground cumin
1/2 teaspoon kosher salt
1/2 teaspoon ground black pepper
Stir all ingredients together. Refrigerate overnight or, like we did, ate the salsa immediately. It was chilled, somewhat, because I've had the tomatoes in the frig to keep them in good shape.
Last week, I bought a package of tortillas from San Marcos grocery store, located downtown. I sliced each tortilla into quarters. Lightly oiled the slices. Baked them at 450 degrees for 10 minutes.
Tasty snack. I'll make this about every other day. I have more tomatoes to pick. Temps were around 80 today and forecast to be in the mid 80s tomorrow.
Mon, Sep 25
I picked a nice pile of tomatoes. Unseasonably warm weather has ignited the ripening of our tomatoes.
Our high temps have reached the 90s each day from Thu, Sep 21 through today, Sep 25. Five consecutive 90-plus degree days.
Our garden receives little sunshine at this time of the year. If we don't receive sunshine, then the warm or hot temps helps the garden.
I'll need to make a salsa and/or pasta sauce this week. More tomatoes will be ready to be picked this week. I have two containers of tomatoes in a basement fridge. And now the pile of tomatoes that I picked today.
Tomorrow is forecast to be the last hot day. Cooler weather moves in later this week that is more normal for this time of the year.
I thought that I would end up with a ton of green tomatoes that would have to ripen indoors, but we got lucky with the weather.
Last Tue, Sep 19, we got dumped on with 1.40 inches of rainfall. Then it started warming the next day, Wed, Sep 20, followed by our current stretch of hot weather.
I have not watered the garden during this hot stretch. A few tomato plants have brown, dying leaves, but most are still green. Some of the Roma tomatoes are large while others are small.
Thu, Sep 14
Produce picked from our garden this week. The peppers continue to produce well. The green beans have slowed way down since the end of August, although I noticed new flowers this week. Finally, the Roma tomatoes have started to ripen. We have too much shade for the fall. The garden contains a lot of green tomatoes.
Tue, Aug 22
I picked a fair amount of green beans.
Tue, Aug 15
I picked a few peppers and some green beans.
Mon, Aug 7
This evening, I picked the first green beans of the season from our garden. This was another item that I planted late. Actually, I planted seeds earlier in the season in the square that rests on our driveway, but a rabbit devoured the young plants.
I didn't plant a lot of green beans, but we'll have some to eat, during the late summer and fall. Today's green beans went from the garden to the sink to be rinsed and then into the pot to be steamed. We ate the green beans for dinner this evening.
Also for dinner, I cooked pork chops in a cast ion skillet. We bought the chops two days earlier at the Toledo farmers market.
I made a salad that consisted of lettuce greens that I picked last week from our garden, chopped up carrots from Kurt the farmer that we bought on Saturday at the farmers market, a chopped up pepper from our garden, chopped up tomatoes from the farmers market, olive oil, and balsamic vinegar.
I added some bourbon peach jam to my dinner plate, which I used with the pork chop. I bought the jam two weekends ago from the farmers market in B'ville while we visited my Mom. The jam was produced by Nel Ritterbeck in B'ville. The jam ingredients: peaches, sugar, lemon juice, bourbon, pectin, vanilla bean, cinnamon stick.
On Sunday, August 6 and again today, I noticed bad trend with the tomatoes. On Sunday, I observed one green tomato that grew on one of the driveway container plants looking to be brown-rotted at the base of the tomato. And today, I saw a few more tomatoes in the middle rectangle that have these dark areas at the base of the green Roma tomatoes.
This tomato issue seems familiar, like it happened two or three years ago in my garden. I'll have to research it.
The tomato plants look good. They contain dozens of flowers. I Q-tipped the flowers again today. If the flowers produce tomatoes, and the plants do well in the fall, then we will be inundated with a lot of tomatoes. Of course, I planted 36 tomato plants.
Thu, Aug 3
This evening, I picked lettuce for the first time in a while. It has not grown much over the past two weeks. Today's haul was decent-sized, and might be the last, except for a few stragglers.
I also picked two more peppers. The tomato plants and the pepper plants grew a lot over the past two weeks. Green beans are forming and will need picked soon.
The tomato plants in the middle bed contain a lot of branches and leaves. I wonder if I used too much organic Espoma tomato plant food fertilizer. The middle rectangle contains nothing but tomato plants, and it looks like one large shrub.
In 2016, the middle rectangle bed grew peas, green beans, sweet potatoes, and I think that was it. Maybe the bed contained a lot of nutrients.
The six tomato plants that grow in the containers on the driveway don't contain as much vegetation, but the driveway tomato plants have produced flowers and some early fruit. These plants, however, have shown yellow leaves too. Since these container plants sit on concrete, they might get stressed more. This week, I started watering the container tomato plants more than the garden plants.
The tomato plants that grow in the west rectangle bed look good, but I don't think that these plants are as heavily vegetated as the middle bed plants.
But a lot of tomato plant flowers exist, and several plants are producing green tomatoes. I might be able to pick tomatoes next week. If I had planted in late May instead of late June, then I assume that I would have been picking tomatoes in early to mid-July, which is more like normal.
The warm weather in recent weeks has helped the garden. The forecast, however, calls for cooler weather from tomorrow through next Thursday with hi-lo temps mainly in the 70s and 50s. With the lower-angled sun, the garden now only receives about three hours of sunshine. The cooler weather may slow the garden growth some.
Mon, Jul 24
I picked nine peppers from our garden.
Unsurprisingly, last week's warm and humid weather spurred tomato plant growth. It appears that the plants doubled in size. A couple plants have started to form tomatoes.
Mon, Jul 17
I picked a fair amount of lettuce this evening from our garden. The lettuce plants continue to grow well. Temps are forecast to be in the mid 80s, at least, starting tomorrow and lasting at least through Sunday. That might slow down the lettuce-growing some, but I'll water too. We didn't receive a lot of rain last week, and I don't think much rain is in the forecast for this week. It should be good weather, however, for the tomato and pepper plants.
Tonight's lettuce haul. Three kinds of lettuce are growing. And they are all from seeds that I planted outside two and/or three years ago.
I took these photos yesterday. Obviously, the Oak Openings Region native plants are all gone.
Barney photo-bombed the background.
Deb wanted the yard "cleaned up". Spartan Landscaping worked on our yard from Mon, Jul 3 through Sat, Jul 8, nearly every day. Front and back. Removed plants. Hauled away brush pile. Edged flower beds. We bought mulch from the City of Toledo's Division of Forestry.
The city delivered a small dump truck load of mulch. They dumped it on our driveway. Spartan Landscaping is run by two young University of Toledo students. They've been landscaping yards for several years. They do good, hard work. They spread the huge mound of mulch on one day, Sat, Jul 8.
It's still sad without the flowers. The Tall Coreopsis would bloom about now. Sawtooth Sunflower would bloom next month. Smooth Blue Aster in September. Black-eyed Susans throughout the summer and fall. Purple Cone flowers about now too.
The only remaining Swamp Milkweed plant grew through a crack in the concrete driveway, next to the east side of our house. It grew close enough to the house that our vehicles didn't hit it. Last year was the first year for this concrete seam plant. Last year, it didn't produce seed pods. This year, it bloomed in late June and early July, early enough, and with enough blooms that it probably would have produced seed pods.
But I noticed a few days ago that it was gone. Either the Spartan Landscaping crew removed it or Deb got it. I should have said something because the Swamp Milkweed is one of my favorite plants.
All of the OO native plants are sharp. When the Tall Coreopsis bloom in our backyard, it's a fireworks explosion of small yellow flowers because we had so many coreopsis.
The goldenrod had made a comeback this year. We end up with a lot of yellow blooming flowers in the late summer and early fall. Not this year.
We started planting OO native plants back around 2003 and 2004. I enjoyed the insects that the flowers attracted. In the fall, goldfinches and juncos fed on the seeds of the Tall Coreopsis, Sawtooth Sunflowers, and Purple Coneflowers.
Thu, Jul 13
Recent rains and some warm and humid weather have helped the garden.
Several of the small pepper plants have produced peppers. I guess that it's a short plant.
The tomato plants have kicked it into gear over the past 7 to 10 days. It will still be a while before the plants produce flowers. I wish that I had planted them in late May instead of late June.
This week, I added cages and stakes to about half of the plants. I don't enough for 30-plus tomato plants. I'll need to figure something out.
Some of the green bean plants growing in the fenced-in east rectangle have started to produce flowers.
Nothing exists now in the small, square box that resides on our driveway. The rabbit finished off the second batch of sprouted beans. I won't try any more this year in that box. The rabbit wins. I'm not going to fence in that box.
Sun, Jul 2
small square box on driveway udpate:
For some reason, the two pole bean plants have withered, despite my watering and the significant rainfall that we received two days ago.
The two purple green bean plants that survived the rabbit or whatever weeks ago and had bloomed purple flowers recently got devoured by something. Only the twiggy stalks and branches remain. Leaves gone.
Some of the green beans that I planted last week have sprouted in the driveway box, but will they survive the muncher? I'm not going to add fencing around this small box.
Last year, I planted green bean seeds in the driveway box in late June or early July, and the plants did well, producing a lot of green beans. And nothing munched them.
fenced-in yard garden update:
The tomato plants have grown some. I may need to clip the lower leaves that still seem a little yellow-ish. The pepper plants look okay.
I harvested more lettuce a few days ago. The lettuce plants are producing bigger greens. They have reached their peak or prime now.
The green beans have sprouted in the east rectangle that is also used by the pepper plants.
Sun, Jun 25
The beans that I originally planted in the small square on the driveway that were mostly gobbled by the rabbit after the beans sprouted included:
Circa Plants - Royal Burgundy Bean
Circa Plants - Lazy Housewife Green Bean - the pole bean - grows 4 to 6 feet tall
These were small packets that I bought from a vendor a few years ago at the Country Living Fair in Columbus, OH.
I planted a third variety of green beans in the square too, but I don't remember what it was.
Here's more info from the tiny Circa Plants bean packets.
Royal Burgundy:
Royal Burgundy produce 6-7 inch beans in deep purple on bush type plants. Beans turn green during cooking and have a bright green interior when fresh. Royal Burgundy are prized for use in fresh dishes due to the vivid color and a favorite of many when cooked due to their excellent flavor. Also will hold up well in freezing or canning.
Lazy Housewife Green Bean:
First available in 1810 and sold by Burpee beginning in the late 1800s, Lazy Housewife are a hard to find very productive and stringless (less work for the cook!) pole type bean. Harvest when young for great flavorful green beans or allow to dry on the vine and gather the 'shelly' beans for later use. One of the favorite garden beans in the US for years.
http://circaplants.com - Logan, OH
Sat, Jun 24
I've been picking lettuce every few days. Not large hauls, like in previous years when I bought the lettuce plants. These lettuces plants that grew from seeds that I planted two or three years ago do not produce a lot of leaves.
The main thing for today was planting the rest of the garden. I spent $44 at Black Diamond Nursery buying a flat of Roma tomatoes (36 plants), a flat of Hole Mole peppers (18 plants), and a big bag of Espoma organic tomato plant fertilizer.
The tomato plants were small, mainly under one foot tall. They looked a little wilty with some yellow leaves. If they even half of the 36 plants survive and grow big enough to produce tomatoes, I'll be surprised.
I needed to plant tomato plants this size a month ago, late May. The plants could have enjoyed the hot weather earlier this month. And the sunshine. The yard will still have 4 to 5 hours of sunshine into July, but by August as the sun dips lower, the sunshine time drops.
Our garden gets little sun in the late summer and fall, which I'm sure hinders the tomato and pepper production. Last year, most of the tomatoes were picked in July and the first half of August. The plants still produced tomatoes, but they took longer to ripen.
The middle rectangle bed contains all tomatoes. 7 rows of 3 plants per row. I planted tomatoes in each of the six plastic containers. At least those I can move around on the driveway to gather more sun. And then I planted the remaining 9 tomato plants in the west bed that contains the lettuce plants. The bed contained open space at the north end. And some openings existed among the lettuce plants.
One nice thing about having a shady yard is that the lettuce plants continue to produce through July and into early August. Normally, our lettuce production is at its highest, during June and maybe early July. The amount of lettuce harvested decreases through July. By early to mid August, I'm done with the lettuce plants.
I planted the pepper plants in west half of the east rectangle bed. The east edge of the bed borders the Oak Openings Region plants, which consists mainly of tall coreopsis and goldenrod in that area. A lot of sawtooth sunflower plants grow near the house by the back door.
It's hard to maneuver along the outside of the east edge of the east bed because of the flowers that are now three to five feet tall. The tallest tall coreopsis plant is a little over six feet tall. Only one plant is that tall at the moment.
For future reference, I should plant the lettuce in the east bed, since flowers shade most of the bed in the 8am to 9am hour while the middle and west beds enjoy full sunshine.
For the peppers, I planted 9 rows of 2 per row. For the rest of the open space in the east half, I planted green beans.
I planted more green beans, two varieties, in the small square on the driveway. I have not seen a rabbit around in a while.
I don't know how many green beans in total I planted across the two locations. I planted three varieties.
Liberty Garden - Topnotch Golden Wax - yellow bean - white seed
Liberty Garden - Blue Bush Bean - green bean - white seed
High Mowing - Provider Bush Bean - green bean but the seeds were a dark maroon color.
I bought the small packets of Liberty Garden bean seeds from Titgemeier's, located in the Old South End section of South Toledo. I checked their plants, but they didn't have any tomatoes and peppers worth buying. They were pretty much out of produce garden plants for the season.
Before Titgemeier's, I shopped at the Toledo farmers market, located downtown, and I saw a couple farmers, selling small tomato plants, and I think pepper plants too. If Black Diamond did not have any plants, I would have gone back to the farmers market.
I spent over four hours working in the backyard from approximately 3:45 p.m. to 4:15 p.m. I never took a break to come inside, not even for a glass of water. The weather was amazingly pleasant. It was sunny, but I worked in the shade of our numerous, large oak trees. It was a little breezy. And temps were only in the 70s with low humidity.
I swept the back driveway, raked and mowed the backyard, weeded the six tomato containers, dumped the soil from the containers onto the driveway and spread the soil to dry, weeded all three rectangle beds, turned the soil over in the two beds that contained no plants, planted the tomato and pepper plants, which totaled 54 plants, and then I planted the green beans.
For the tomato plantings, I added some organic fertilizer to each hole before planting. I definitely don't have enough cages for the plants. Before figuring that out, I'll see how many plants start growing.
Fri, Jun 23
Two plants from the purple green bean variety remain, and they started blooming purple flowers today and/or yesterday.
I planted these beans along with two other varieties in the small square of soil, located on our driveway, against the Oak Openings Region native flower bed.
Only four or five bean plants survived the rabbit after many had sprouted. Two of the purple beans, two of the pole beans, and one other bean. I planted three types of green beans. The pole beans were an accident. I didn't know that they were pole beans until after I planted and noticed the package.
This week, the two pole bean plants sent out their long tentacles, searching for something to cling to. Fortunately the two plants are near each other. I inserted an upside-down, cone-shaped, tomato cage around the plants, and I wormed the pole bean tentacles onto the frame. It will be interesting to see what happens. I have not planted pole beans before.
Actually, I accidentally planted a couple pole beans last year. They were mixed in with a packet of bush beans. They got planted near the wall of the east rectangle bed, and the beans grabbed onto tall coreopsis stalks. I picked beans five to six feet high.
The tomato cage won't go that high, but I think that the beans could grow more than four feet tall. I should have tried something else because I might need that tomato cage.
Mon, Jun 5
I ate a small salad that used all of the lettuce that I picked on Fri, June 2. I still have not planted anything else.
Two or three green bean plants still exist in the small square bed that exists on the driveway.
I should buy tomatoes and peppers this week and plant green beans if space exists.
Fri, Jun 2
This evening, I harvested lettuce that I transplanted. Many of the plants were ready or nearly ready for lettuce to be picked when I transplanted them on Tuesday, but I also picked a lot of small leaves. The plants looked droopy. Picking the lettuce might help the plants devote energy to new growth.
Tue, May 30
Since I have not tended to the main garden area this spring, other plants were growing, including Oak Openings natives and weeds. But on Sat, May 27 while viewing the cleanup that I needed to do, I noticed lettuce plants growing in the eastern rectangle.
In the fall of 2014, I tried to grow lettuce from seed, but because of all the oak trees, our backyard receives little sunshine in the fall, especially with the low-angled sun. One the leaves are all down by Thanksgiving, then the backyard receives a lot of sunshine. From late spring to late summer, the backyard receives four to five hours of sunshine.
I tried lettuce again, I think, from seed in the spring of 2015. That spring, the arugula grew well from seed, but nothing else did.
I was surprised to see the lettuce plants on May 27, 2017. I assume those plants grew from seeds, planted two or three years ago. And since I have not planted anything else yet, the lettuce was free to grow.
On Tue, May 30, I transplanted 30 lettuce plants that grew wildly in the east rectangle to the west rectangle with three to four plants per row. Now I don't need to buy lettuce plants.
Fri, May 26
The few remaining bean sprouts were eaten or whatever. I won't replant in this square. I have yet to plant anything in the main garden. Maybe next week, I'll plant tomatoes, peppers, and green beans. Unsure about lettuce now.
Thu, May 25
Easy come, easy go. The new green bean sprouts existed this morning, but by evening, they mostly gone. I think that a rabbit ate them. We have had a rabbit hanging around our backyard for a while. This small square growing area is not protected by fencing like the main garden.
Tue, May 23
The greens beans had sprouted while we were away for a few days, visiting family. I noticed the beans this morning.
Mon, May 15
I planted green beans in the 3.5 foot by 3.5 foot plastic-walled square garden that resides our concrete driveway. It produced green beans well, during the second half of last summer.
And like last year, I planted green beans very close together. I can thin them later.
I planted three green bean types:
Royal Burgundy - from Circa Plants
Lazy Housewife - from Circa Plants
Provider - from High Mowing Organic Seeds
And I only now noticed that the Lazy Housewife is a pole bean. Oops. Mistake. I have only planted bush beans in the past.
These pole beans are suppose to grow 4 to 6 feet tall. I'm not going to build something to support pole beans. I'll replace them when they start sprouting.
Wed, Apr 12
This evening, I cleaned out the backyard, raised-bed garden. I removed leaves, old plant stalks, and unwanted plants that sprouted recently.
I also removed the strawberry plants that we had for the previous two or three seasons. They are taking up too much room, and they produce small berries.
After cleaning out the garden, I turned over the soil.
Tue, Apr 11
I scrapped the indoor garden. Only a few lettuce seeds sprouted. None of the tomatoes sprouted. I dumped the soil into the backyard garden.
Maybe it was too cold and too dark to start seeds indoor. I might try again next year with more equipment.
Thu, Apr 6
This morning, I noticed several lettuce sprouts that I didn't notice yesterday. They must have existed, and I overlooked them because some were at least one-inch long. But they were leaning over, toward the one lamp that I own. Each tray should have a lamp.
Wed, Apr 5
The tomatoes and the lettuce still have not sprouted. Maybe the house has been too cold. Next year, I'll try heating mats. Maybe I don't have enough light. Too little water. Too much water.
It's nearly at the point now that if either sprouts, it's probably too late for use outside. I'll buy heirloom tomato plants from Black Diamond and lettuce plants from the farmers market or Black Diamond too.
From my July 2016 garden notes
if i don't plant peas next year, then i may simplify the rectangles this way:

west = all lettuce
middle = all tomatoes - 8 to 10 plants
east = all grean beans with at least two staggered plantings

containers and square on the concrete driveway, who knows
I thought about planting peas this week, but I'll pass. I think that I'll do the following:
west rectangle = late April / early May - plant purchased lettuce plants.
middle rectangle = early to mid May - plant 10 purchased heirloom tomato plants.
east rectangle = mid May - plant at least 20 pepper plants of multiple varieties.
6 round containers = early to mid May - plant purchased heirloom tomato plants.
3.5 ft X 3.5 ft square on driveway = early May - plant green bean seeds. repeat in late July.
Each rectangle is 9 ft X 4 ft. For pepper plants, it's recommended to plant one pepper plant per square foot. I should plant at least 25 pepper plants in the east rectangle.
I didn't plant peppers last year, and I missed using our garden peppers on salads, pizzas, and other meals. We made fresh salsa multiple times last year. It would be nice to add garden peppers.
Another option for the east rectangle is to plant green bean seeds in early May in four rows of the rectangle, and crowd 20 pepper plants in five rows.
Wed, Mar 29
The tomatoes and the lettuce have not sprouted. I'll let things go another couple weeks to see if anything happens. I doubt that I continue to tend to these plants even if they eventually sprout in April. It might be too late.
On Monday while buying bird seed at Black Diamond Nursery, I noticed that they were selling lettuce and onion plants.
Thu, Mar 16
i replanted 36 tomato seeds. i used seeds that i had soaked in water last fall for several days. hopefully, they're cleaner and can germinate. maybe it's too cold in our house. i'm not using heating mats under the trays. this week, i finally setup the single growing lamp.
last sunday, i spoke with the owner of black diamond nursery, located on tremainsville, and he said that started their heirloom tomato seeds in the green house at the end of february or beginning of march, and he said their plants had sprouted. i may end up buying tomato plants from black diamond.
also on thu, mar 16, 2017, i planted lettuce seeds in the 72 small containers.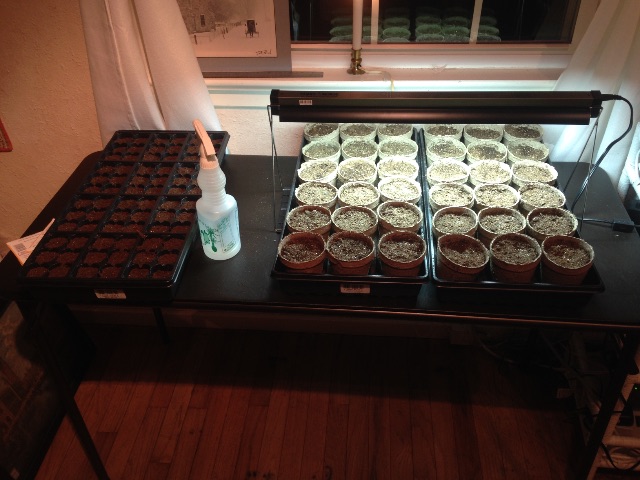 ---
Fri, Mar 3
i planted 36 heirloom tomato seeds inside our home. the seeds came from tomatoes that i grew from seed in 2016. the 2016 tomato plants grew from seeds that came from my Dad's 2015 tomato plants.
last fall, i didn't clean the tomato seeds the recommended way. my seeds have the dried goop on them that comes from the tomatoes. this might hinder germination. if the seeds don't germinate, i'll soak more seeds and dry them to see if i can remove the gunk.
i should have planted two weeks ago, mid february to account for any problems and a do-over.
i planted one tomato seed into each of the 36 containers.
i have not planted the lettuce seeds yet. i need to check timings.
info said to start tomato seeds indoors six weeks before the average last frost date, which is around may 12 for the toledo area, but in the city, it's probably a week or so earlier, although the oak leaves are small in early may. it's not like the fall when the oak leaves provide a protective canopy from frost, which allows to keep growing into the first week of november. last year, i picked everything for the final time in the second week of november.
anyway, may 7 might be a good average last frost date for our west toledo property. i'm planting a little early, but i'm thinking the seeds might not germinate well, which means a do-over in mid-march.
---
Thu, Mar 2
Bought items from The Anderson to start seeds inside.
3-inch round, biodegradable planting containers - 40 of them - 4 packs of 10
72 small plastic containers that all fit in one tray.
3 trays to hold the containers
1 grow light
jiffy natural organic seed starter mix
i set everything up except the light.
for the tomato plants, two trays will be used. each tray holds 18 of the round, biodegradable containers.